For information about the protagonist of this game, please see here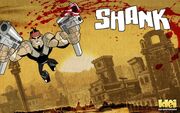 Shank is a modern revival of the traditional brawler. The game has a combo system often described as the 2D version of the classic game God of War or Devil May Cry. The main character carries three main weapons: a chainsaw, dual pistols, and dual knives. The weapons are mapped to a face button which allows players to seamlessly switch weapons. Shank also contains many basic elements of platforming games, which include the players jumping and scaling buildings, and using knives to climb. Marianne Krawczyk, who worked on the God of War Franchise as a writer, has been confirmed as working on the story for the game.
Release Date & Price
Edit
The game is set to release on August 24, 2010 on the PlayStation Network and August 25, 2010 on Xbox Live. The game will be $14.99 or 1200 Microsoft Points respectively.
System Requirements for PC
Edit
System Requirements
Minimum Requirement
Recommended Requirements
Intel CPU

Pentium 4 1.7GHz

Core 2 Duo E6300 1.86GHz
AMD CPU
Athlon XP 1600+
Athlon 64 X2 Dual Core 4600+
Nvidia GPU
GeForce 6800 XT
GeForce GT 230
AMD GPU
Radeon HD 3650
Radeon X1800 Series 256MB
RAM
1 GB
1 GB
OS
Windows XP 32
Windows XP 32
Direct X
Direct X 9
Direct X 9
HDD Space
3.5 GB
3.5